Stargazing & Night Walks
A note from our resident Naturalist Arun on Night Walks at Ahaspokuna:
The Ahaspokuna bush walk camp, is surrounded by a protected area of about 200 square kilometers of land between the savannah of Balangoda and dry mixed evergreen forest. The riverine forests can also can be seen along the streams and bigger rivers.This location allows for a diverse ecosystem that gives life to a variety of wildlife. Night Trails at Ahaspokuna are just a great way to see all these animals, including the nocturnal, emerging slowly in the night. Experiencing nature at night can be fun and exciting. At night, the world is full of sounds and smells - much different to that at daytime.
Not only the wildlife, gazing up at the Milky Way galaxy, watching a meteor streak across the sky or finding your way by the light of a full moon - can be transformative experiences, especially if you're a "city creature".
Going out at night into the woods is completely different to venturing out during the day time, as most human senses have adopted mostly for the latter. So early preparation is a must.
It is important that your flashlight is fully charged and it's sensible to have an extra head lamp. Long sleeves and boots would provide good shield against sharp grass, rock and thorns. Slow down and don't expect to walk in the night at the same pace you would walk in the daytime. Going slow lets you observe things you might miss otherwise.
This trail would only take 45 minutes to one hour for completion. Of course the duration can vary to due the sightings. The route itself is a fixed route that covers different terrain: grassland, dense woods, smaller streams and ponds - all giving you more chances to spot wildlife. Listen and look out for animals, not only so you can enjoy seeing them but also so you can respond if necessary. On this tour, you are likely to see fresh tracks of sambar deer,wild boar, barking deer and even the Sri Lankan leopard. However, to spot other wild cats that live around the vicinity of the camp, you may set up a night vision trail camera during the walk with the help of the resident naturalist. Ahaspokuna gives life to a diverse and abundant amount of bird life all year round, including: doves, bul-buls and flycatchers. There are the nocturnal birds like owls to be seen on the lookout for prey.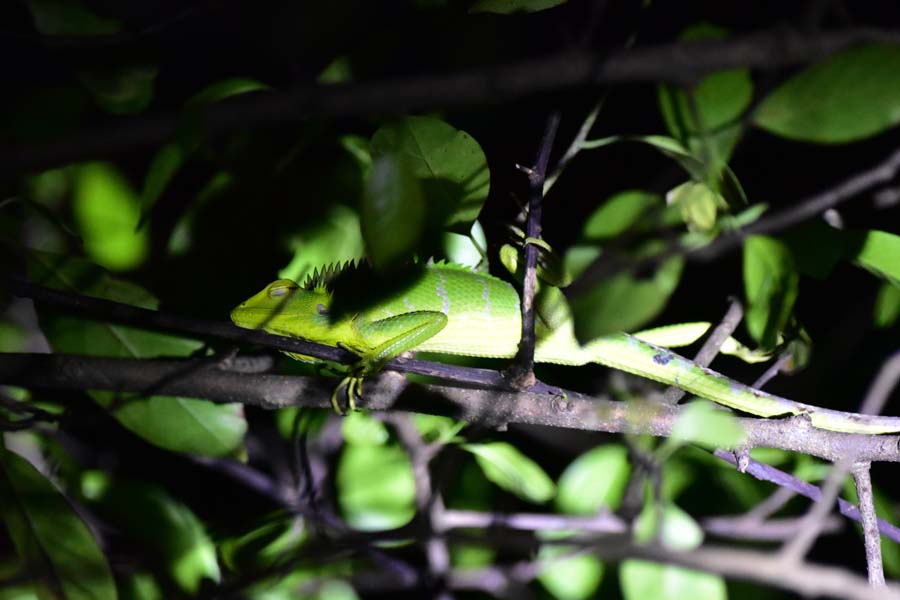 Ahaspokuna bush walks camp and the nature reserve around are also rich in flora, seen blooming in different seasons. The feeling of the night is a wonderful experience. When it comes to reptiles and amphibians, your experienced guide has an eagle eye to spot especially the snakes among the leaf litter or hanging around the tree branches - waiting for its prey. These wonderful creatures mostly hang around smaller streams especially the endemic green pit viper. Many frog activities occur around the pools including the special night frog ochcharas. It is amazing to spot the salsa dance from fireflies too.
Walking in this Ahaspokuna camp at night, is simply a magical experience.