Ahaspokuna, located in Sri Lanka's hill country, is a novel experience for adventurers wishing to explore the best of what Sri Lanka has to offer. Only accessible by foot, this all-suite camp provides experiences that are all about bushwalks in an environment that provides new experiences around every corner. Enjoy Sri Lanka's famous warmth and hospitality at its finest and make your walking safari dreams come true.
We are well connected from the upper mountains (Nuwara Eliya / Hatton) and Udawalwe / Yala National Parks are 2 to 3 hours away. Tangalle or Galle (Mirissa) could be connected to within 3 to 4 ½ hours. If you need to fly in, the closest fixed wing airport is just 2 to 2 ½ hours away. Helicopters could be landed very close to the site as well.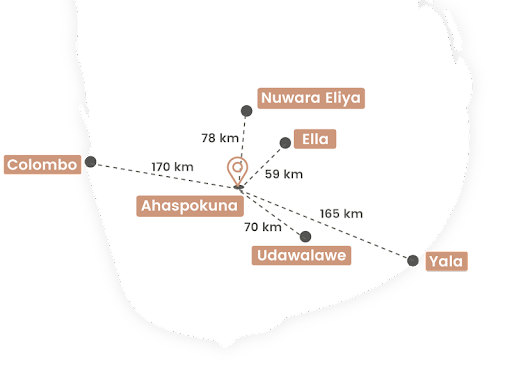 Directions to get to Ahaspokuna.
Our pre-designated pick-up point is not in a populated area; it is located on a less-frequented motorable road. Hence, it's absolutely essential that you have precise directions on how to get there. We recommend that you or your driver talk to us on the previous day and clarify the pick-up time/place. Once you get the location sorted, it's very easy to find us. Please insist that your sales agent get you the directions or get your driver to contact us for written directions. Please do not depend on Google Maps as mobile signals may be very weak from time to time. Furthermore, if you arrive at the pick-up point unannounced or without a pre-agreed meeting time, there won't be anyone waiting for you; the camp is a 20 minute trek into the wilderness from where you can park your vehicle.