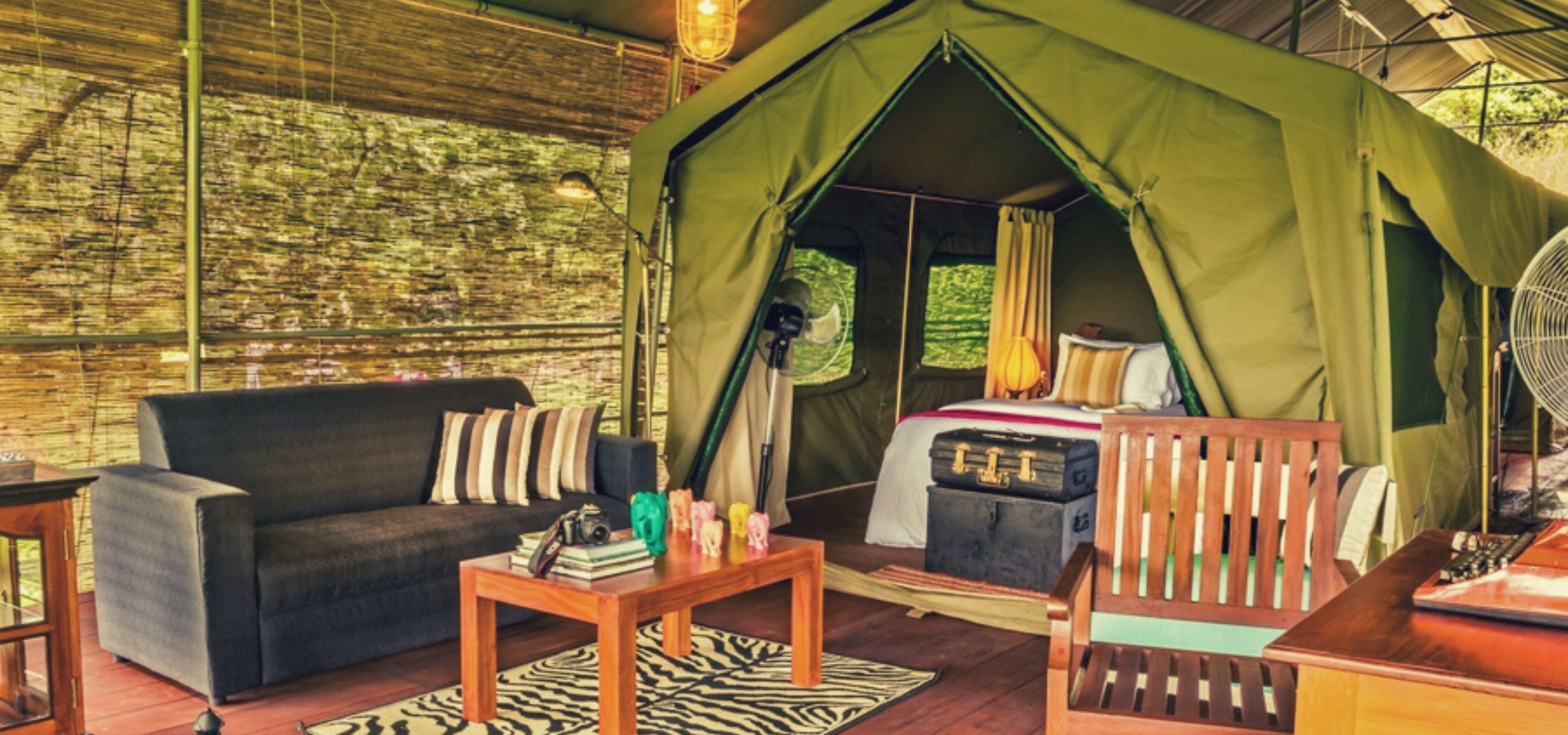 Your luxury suite-tent
Overview
We have created your accommodation unit around a grassland and waterhole, which has been the previous livelihood of man and beast over 100 years ago. We offer you probably the largest private space that any camp, lodge, hotel or accommodation-provider could offer in Sri Lanka. At our camp we have not fenced-in the elephants, but have instead fenced the living area, providing absolute peace of mind for our guests. Your stay involves an all-inclusive meal / beverage plan, with a personalised menu and silver service.

Tent and Living Areas
Your accommodation unit (private space) would consist of your arrival deck with a living room setting, sleeping tent bedroom, washbasin lounge with beanbags, a tent with a flushable toilet, an indoor shower with hot and cold water, a romantic star bed / day bed for you to relax or sleep in during the day or night, and the first-ever bush bathtub in Sri Lanka which overlooks the grassland in 1000 square metres of private space protected by an elephant fence. There are plenty of private spaces within our boundaries for you to read, relax, meditate or practice yoga. If you wish to take part in guided meditation and yoga, specialised teachers can be arranged for your stay. While you unwind in your private sanctuary, don't forget to enjoy the magnificent views of the open grasslands and mountains from your suite-tent. *Ahaspokuna has only 3 suite-tents to accommodate guests
Dining Tent & Common Living Areas
We have pitched our Dining Tent away from the Sleeping Tents, allowing complete privacy to the residents closer to the watering hole. We offer outdoor dining around a central campfire – a highlight of wilderness living, where the stars and sounds of the night will keep you company. Before dinner, you may sit by the campfire with a bottle of wine and talk to our naturalists about the day's bushwalk and experiences in the wild. After all, what's a campfire without a few campfire stories?
Another first in Sri Lanka…
Take a tub safari with our elevated bathtub overlooking the grasslands, equipped with hot and cold water, which accompanies every suite-tent.While your bathtub caddy keeps your book and glass of wine steady, enjoy an immersive experience of an alfresco Wild Bath, in the open plains, at any time of the day.
Get comfortable on Sri Lanka's first and only outdoor Star Bed, in the private garden of every accommodation unit. This spacious, luxury four-post bed set on a wooden deck makes a wonderful place to curl up with a book during the day, or sunbathe amidst the butterflies in complete privacy. Undoubtedly, this is the most alluring place to spend the night with your partner when the stars come out. Romantic candlelight, twinkling stars and complete privacy… makes a night of intimacy all the more magical.
Cultural Cuisine
Pampering at Ahaspokuna is not limited to its blissful surroundings. A truly local, authentic Sri Lankan cuisine takes you on a new path of gastronomic pleasure. Our executive chef carefully prepares Ahaspokuna's Signature Dishes using age-old cooking traditions, with your palate in mind.


Some of the delicacies you may find during your stay are the local sweetmeats, polos cutlets (young jackfruit cooked in spices, mashed and deep fried) local breadsticks 'Viskiringe', and 'Lavariya' (coconut and jaggery wrapped in string hoppers) amongst a host of others.
Get your free Quote Now !!!
Stay updated
Receive updates and latest news direct from our team. Simply enter your email below :
We only have 3 Tented Suits at Ahaspokuna and fast filling.
You may send your expression of interest or book instantly using our online booking engine.