What to expect
Your own, private luxury tented suite with a private daybed/star bed and a bush bathtub.
Mild, medium to daring bushwalks – the choice is yours.
Guided bushwalking adventures with a professional and experienced Naturalist and local bushmen.
Possibilities to witness wildlife such as Elephants, Sambar Deer, Porcupines, and Pangolins during your day/night walks. 
All-inclusive accommodation plan with delicious Sri Lankan delicacies and cuisine. 
Sit around the campfire and enjoy a glass of wine or a beer.
Amazing landscapes and pristine wilderness.
An immersive glamping experience in the heart of the forest.
A fascinating venue with complete privacy for your leisure.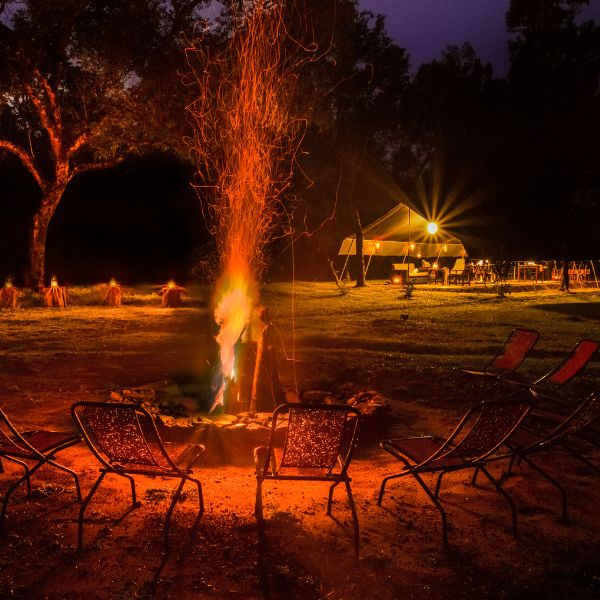 The programme
Day 1
Arrival: We meet you at the designated meeting point by noon and start the short welcome trek to the camp. Your luggage will be taken by our porters, leaving you free to take in the sights and sounds around you. After the welcome briefing by the Camp Manager at the camp lounge area, you will check in into your tented suite. You will be briefed on the features of the tent and the associated facilities. After you settle in, lunch will be served.
Post-lunch: Our naturalist will discuss the evening programme with you. You are free to take it easy and enjoy the large campsite and the surrounding area, or you may opt for the 2 ½ to 3-hour adventure bushwalk that will take you through the grassland and forest. If the weather permits, you can have a refreshing soak in a natural rock pool located at the bottom of a waterfall.
If you decide to stay back and enjoy Ahaspokuna to the fullest, you may pick any of the free value additions and activities that have been created for kids / families. Evening: We meet you again around 6 pm at a unique viewpoint that lets you enjoy a magical sunset so vivid, no camera in the world can do it justice. Dinner & Drinks: Take a relaxing soak in your Bush Bathtub and meet us near the campfire for drinks, dinner and campfire stories under the stars. Post-dinner: Wrap up a day of adventure and bliss with a relaxing night walk. If you're up for it, bundle up and visit our "Hide" near the waterhole for an immersive experience of nocturnal wildlife as the chilly forest breeze sweeps across the grasslands. Or simply retire to your suite tent or Star Bed and enjoy the rest of the night isolated with nothing in-between you and a billion stars.
Day 2
Morning: Here's your chance to still experience the forest come alive at sunrise in Ahaspokuna! Embark on your pre-breakfast nature trail at 6:30 am and arrive back at camp around 7:30 am for a delicious breakfast. Or just kick back and relax with a morning misty view from your tented suite. You can take this opportunity to make this a complete leisure stay.
Post-breakfast: Sometimes goodbyes can be long and fun, and that's precisely what's in store for those leaving the camp! Your departure trail is roughly a 20-minute trek with a descent of about 300 meters, taking you back to where we first met you. This is where we bid you farewell but look forward to welcoming you soon back to this mystical escape.