Discovering love in the wilderness
Private time together is precious; whether you are heading out on your honeymoon, celebrating your anniversary or you simply just want to get away from the kids for a while. When you do finally find this time, you need to pull out all the stops to make it really special and memorable. Set in the hills, Ahaspokuna will make you feel like you've stumbled onto an adventure right from the get-go. Romance, adventure, monkeys and excitement are in the air and it's all yours for the taking! At Ahaspokuna, you will find an experience of a lifetime that will get you as excited as Tarzan & Jane exploring the deep dark jungles of Africa and uncovering their mysteries!
Living with elephants
This luxury glamping site features multiple bushwalk trails, forged by the gentle giants living in the area, for the adventurous type to follow. The elephants are peaceful and tend to keep to themselves, but quite often they do wander into the camp, so don't be surprised if you wake up to the sound of one of these pachyderms peacefully munching on a tree close to your suite-tent. If you do, don't freak out and let out a Tarzan-like bellow to chase the elephant away; each suite-tent is situated on a 1000 square metre private space that's surrounded by an elephant fence which protects both you and the elephants from each other.

A home in the trees, a bath in the grasslands, a bed under the stars
The suite-tent itself is one-of-a-kind that takes away all the tediousness of a normal camping adventure, and, instead, provides you with luxury camping in an intimate background for your honeymoon or romantic holiday. So curl up with your partner in comfortable luxury or breathe in the vast space and serenity of your surroundings, as you fantasise about being Tarzan & Jane in the wild, unexplored African Savannah. If you feel like stretching your legs, right by your tent is an absolutely unique Bush Bathtub, set outside and open to the bush, but with ample privacy; however, we cannot vouch for the behaviour of squirrels, birds and other curious creatures who may visit you as you soak in a sensual aromatherapy-infused bubble bath! On the other side of the tent, you will find yet another unique feature – the Day Bed / Star Bed; perfect for sunbathing during the day and luxurious for lazing in the night to drink in the stars that litter the sky.
Your bespoke adventure in the wild unknown
If you fancy stretching your legs a bit more and really getting into the whole Tarzan & Jane scenario, Ahaspokuna offers multiple bushwalk trails that are fantastic for animal sightings. But then again, Tarzan & Jane didn't go traipsing about the jungle all the time, so if you want to give the trekking a miss, that's fine too. This is all about time spent together; a Yoga session with a private yoga teacher, Ayurveda Spa Therapy, cooking lessons on local cuisine or even board games. Whatever you desire, our team will make it happen for you! If you are on your honeymoon or celebrating a special day, our team can make it even more special for you by setting up a private, romantic dinner under the stars, by the bonfire.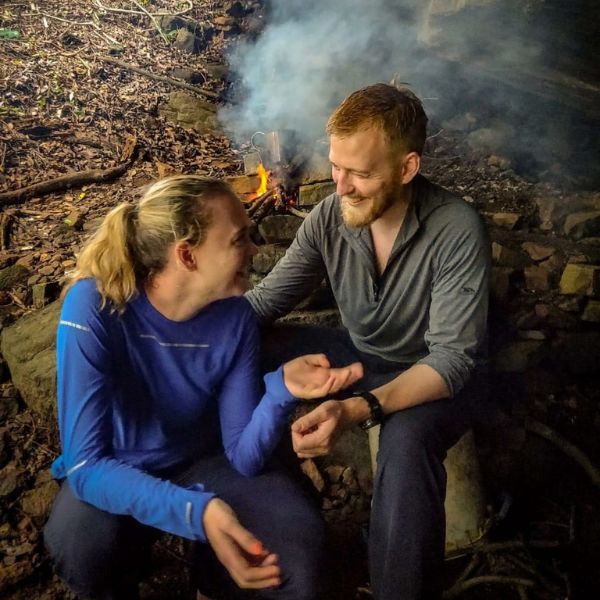 What to expect
Your own, private luxury suite-tent with a private Star Bed and a Bush Bathtub
Private fine dining, wine, and more
Guided bushwalking adventures with a professional and experienced Naturalist and Bushman
The chance to live with, talk to, and witness wildlife such as Elephants, Sambar Deer, Porcupines, Pangolins etc.
All-inclusive accommodation plan with a delicious Sri Lankan menu
Amazing landscapes and pristine wilderness
An immersive glamping experience, in the heart of the forest
Lots of pampering mixed with just enough adventure in a Nature Reserve
The best romantic location with solitude in Sri Lanka
An unforgettable, once-in-a-lifetime experience together
The programme
Day 1
Arrival: Your adventure begins from the moment we meet you at the designated meeting point at noon and start the short Welcome Trek to the camp. Your luggage will be taken by our porters, so all you have to do is take in the sights and get acquainted with the birds and monkeys who will peer at you inquisitively along the way. After the welcome briefing by the resident Naturalist at the camp lounge area, you may check-in into your suite-tent. You will be briefed on the features of the tent and the associated facilities. After you settle in, lunch will be served.
Post-lunch: Our Naturalist will discuss the evening programme with you. You are free to take it easy and enjoy the large campsite and the surrounding area or you may opt for the 2 ½ to 3-hour adventure bushwalk that will take you through the grassland and forest.
Or Just relax for the rest of the afternoon in your luxury suite-tent, which is tastefully designed and decorated with items handpicked by the founder on his many adventures around the world. Evening: We meet you again around 6pm at a unique viewpoint that lets you enjoy a magical sunset so vivid, no camera in the world can do it justice. Dinner & Drinks: Take a relaxing soak in the Bush Bathtub and meet us near the campfire for drinks, dinner and campfire stories under the stars. Post-dinner: Wrap up a day of adventure and bliss with a relaxing night walk. If you're up for it, bundle up and visit our "Hide" near the waterhole for an immersive experience of nocturnal wildlife as the chilly forest breeze sweeps across the grasslands. Or, simply retire to your suite-tent or Star Bed and enjoy the rest of the night isolated with nothing in-between you and a billion stars, just like Tarzan & Jane in faraway Africa.
Day 2
Pre-breakfast: We start the pre-breakfast nature trail at 6:30am. This bushwalk takes about an hour, but if you'd rather sleep-in and continue dreaming of swinging from vine to vine, you can meet us for breakfast at 7:30am instead.
Post-breakfast: For the more adventurous couples, we depart for a late-morning, 3-hour bushwalk that cuts through the grasslands and goes deep into the forest. If the weather permits, a refreshing shallow dip on the top of the Gan Ella Waterfall is also included.
Lunch: We arrive back at camp for lunch at around 1pm. You may sunbathe on your Day Bed / Star Bed, unwind in the Bush Bathtub or simply fall asleep in your private garden hammock. You may also use this time to rest up for your evening excursion, or just relax for the rest of the afternoon.
Or
Rest and relax in your suite-tent before rejuvenating with an Ayurveda Aromatherapy Massage (Full Body or Half Body, as per your requirements) which can be arranged for you with a pre-booking along with your confirmation.
Dinner: Meet us near the campfire for a delicious BBQ dinner under the stars.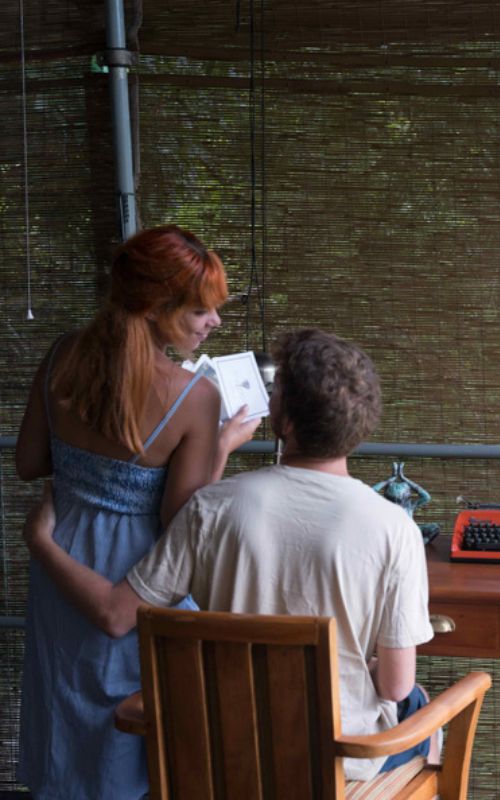 Day 3
Morning: Decided to sleep-in for Day 2's pre-breakfast nature trail? Here's your chance to still experience the forest come alive at sunrise in Ahaspokuna! Embark on your pre-breakfast nature trail at 6:30am and arrive back at camp around 7:30am for a delicious breakfast.
Post-breakfast: Sometimes goodbyes can be long and fun, and that's precisely what's in store for those leaving the camp! Your departure trail is roughly a 20-minute trek with a descent of about 300 metres, taking you back to where we first met you. This is where we bid farewell and you leave behind the world of Tarzan & Jane… until next time!