A modern Stone Age
As you sit with your kids on the deck of your private suite-tent at Ahaspokuna and look out over the vast Savannah-like landscape, it'd be easy to conjure up images of dinosaurs roaming about and pretending you were back in the Stone Age with the Flintstones! You could turn every rustle in the bush into 'Dino' the dinosaur rooting around, every bird or animal call into a tale of intrigue, or just put it down to the pure silliness of Barney Rubble goofing around! The beauty of Ahaspokuna is that it can be many things to people of any age! However, the best part is that you can step out of the Stone Age and be back in the pampered luxury of family glamping, in an instant!
Bushwalking trails forged by the Woolly Mammoth's descendants
The entire wilderness of Ahaspokuna is set up for adventure and relaxing; it's really whatever you want it to be! The elephant trails that are followed on the bushwalks could easily have been flattened and forged by a lumbering Woolly Mammoth or Brachiosaurus (or so the kids would have you imagine!). The trails themselves meander up and down the hills and through the forests, so they are best suited for anyone over the age of 14, as they require more physical stamina. However, we wouldn't want the little ones to be left out, so easier and shorter trails have also been marked out for them. While you're out having fun, please do keep in mind that you're living in a Nature Reserve packed with hundreds of species of birds and elusive animals, such as Elephants, Sambar Deer, Porcupines, Pangolins, Owls, Eagles and a whole lot more. Therefore, even though our Naturalists are great with kids and are always there to help you around the clock, please do keep an eye on your kids and supervise them.
Your 21st century cave
Although it's fun to picture yourself back in the Stone Age, a few modern amenities would not be missed, and that's where the suite-tent comes in! A comfortable queen-sized bed for all of you to pile in and play, a couple of extra beds for when you need to put the kids to sleep, and even a cot for our tiniest of guests are all features of our family suite-tent. Enjoy an attached toilet & shower, a large private space on the deck, a private Star Bed / Day Bed for stargazing at night and sunbathing during the day, a Bush Bathtub open to the bush (but with ample privacy), and a treehouse on top of a Mango tree for the kids!
A yabba-dabba-doo time in the wilderness
Observing the lush surroundings and going on adventures aren't the only things you could enjoy during your stay; we have an extensive range of board games and reading material to keep the whole family entertained as well. We also have drawing and sketching activities which are available for kids who opt out of the adventure trail. Fancy a fun outdoorsy group activity? We'll organise a family treasure hunt just for you, as it's all about you having a yabba-dabba-doo time with us!

What to expect
Your own, private luxury suite-tent with a private Day Bed / Star Bed and a Bush Bathtub
Private fine dining, wine, and more
Guided bushwalking adventures with professional and experienced Naturalists, Bushmen and Activity Organisers
Amazing landscapes and pristine wilderness
The chance to live with and witness wildlife such as Elephants, Sambar Deer, Porcupines, Pangolins etc.
Learn about birds, tracks, reptiles, insects, flora etc.
All-inclusive accommodation plan with a delicious Sri Lankan menu for the whole family
An immersive glamping experience, in the heart of the forest.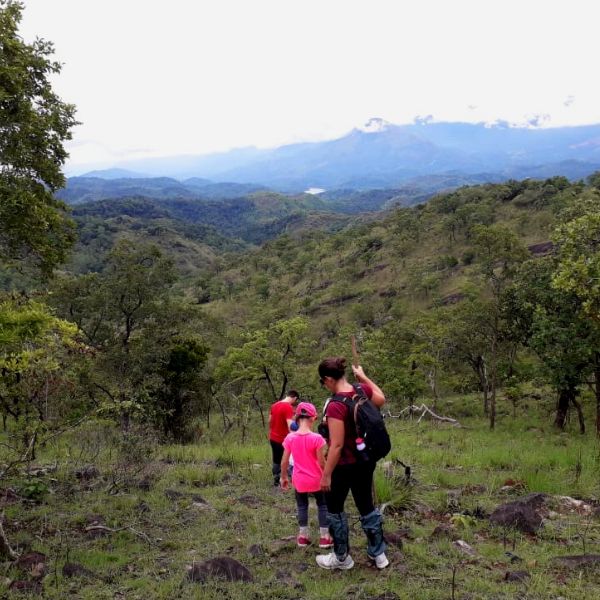 Activities for Cave Kids at Ahaspokuna – offered FREE, based on the availability of time in-between trails:
Our guides are especially trained to work with children. Safety and comfort are foremost in all activities and are given the highest priority.
Customised bushwalks – that allow your children to explore, learn and experience the wilderness.
Treasure hunts – designed to evoke your child's inner caveman on a hunt, and take them on a journey of exploration. Perfect for all ages!
Board games – for when they're tired out or just feeling a bit lazy.
Night walks – the night is a completely different world in the forest. Explore it and learn to set up a camera trap to see some sneaky little critters that lurk in the dark!
Bush cooking – learn the subtle nuances of bush cooking with our chef in the wild. The entire family can cook up a traditionally cultured dish, or a new yummy concoction!
Campfire activities – sit around the campfire and enjoy roasted marshmallows, drinks and campfire stories!
The programme
Day 1


Arrival: We meet you at the designated meeting point by noon and start the short welcome trek through the forest to prehistoric times. Your luggage will be taken by our porters so that you have time to look around and take in the sights as you make your way to the camp. After the welcome briefing by our experienced Naturalist at the camp lounge area, you may check-in into your suite-tent (i.e. your 21st century cave). You will be briefed on the features of the tent and the associated facilities. After you settle in, lunch will be served.
Post-lunch: Our Naturalist will discuss the evening programme with you. You are free to take it easy and enjoy the large campsite and the surrounding area, or you may opt for the 2 ½ to 3-hour adventure bushwalk that will take you through the grassland and forest.
If you decide to stay back and enjoy Ahaspokuna to the fullest, you may pick any of the free value additions and activities that have been created for kids / families.
Evening: We meet you again around 6pm at a unique viewpoint that lets you enjoy a magical sunset so vivid, no camera in the world can do it justice.
Dinner & Drinks: Take a relaxing soak in your Bush Bathtub and meet us near the campfire for drinks, dinner and campfire stories under the stars.
Post-dinner: Wrap up a day of adventure and bliss with a relaxing night walk. If you're up for it, bundle up and visit our "Hide" near the waterhole for an immersive experience of nocturnal wildlife as the chilly forest breeze sweeps across the grasslands. Or, simply retire to your suite-tent or star bed and enjoy the rest of the night isolated with nothing in-between your family and a billion stars.
Day 2
Pre-breakfast: We start the pre-breakfast guided nature trail at 6:30am – this bushwalk is ideal for kids to get the hang of bird watching! The walk takes about an hour, but if you want to skip it and sleep-in like Fred Flintstone, you can meet us for breakfast at 7:30am.
Post-breakfast: We depart for a late-morning, 3-hour bushwalk that follows an elephant-made path and cuts through the grasslands, going deep into the forest. If the weather permits, a refreshing shallow dip on the top of the Gan Ella Waterfall is included.
Or
We embark on a family time journey filled with adventure and mystery. The 2-hour treasure hunt has multiple activities including deciphering codes, identifying and learning new habitats, as well as team building activities to keep the children and parents on their toes.
Lunch: A delicious hot lunch will await you at 1pm. Sunbathe in your Day Bed / Star Bed, unwind in your Bush Bathtub, or simply fall asleep in your private garden hammock. Children can be provided with reading material, along with colouring or painting activities and board games, so that the parents can indulge in a little "us time" and rest up before the evening family excursion.
Evening: Our evening trek will take approximately 2 ½ to 3 hours, following a trail forged by the descendants of Woolly Mammoths, into the grasslands and forest.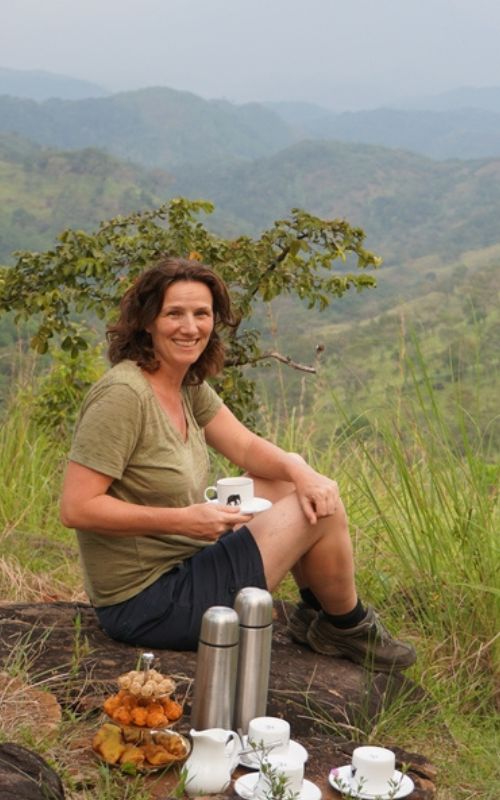 Day 3
Morning: Did a "Fred" and slept-in for Day 2's pre-breakfast nature trail? Here's your chance to still experience the forest come alive at sunrise in Ahaspokuna; embark on your pre-breakfast nature trail at 6:30am and arrive back at camp around 7:30am for a delicious breakfast!
Post-breakfast: Sometimes goodbyes can be long and fun, and that's precisely what's in store for those leaving the camp. Your departure trail is roughly a 20-minute trek with a descent of about 300 metres, taking you back to where we first met you. This where we bid farewell and you leave behind the world of the Flintstones… until next time!