Raiders of the lost plains
Nestled up in the hills, Ahaspokuna is a hidden treasure in the middle of a Nature Reserve. The beautiful terrain around it offers the perfect bushwalking trails for new explorers, historians, or experienced trekkers. Elephant forged trails take you through beautiful scenery, mountain ranges, waterfalls, grasslands and even through rural villages, all the while bringing you close encounters and sightings of birds and beasts of the land. Uncover the exciting mysteries behind our bushwalk and wilderness living experience, unmatched anywhere else in Sri Lanka.
The crusade to uncover history
You will be accompanied on your bushwalks by people who know the lay of the land; our professional and experienced Naturalists, Trekking Guides and 3rd generation Bushmen. They will point out significant features along the way as well as provide interesting titbits about the creatures you encounter. Our go-team is made up of people who love exploring and protecting Nature, so be free with your questions about the wilderness, the historical site of the Uva Rebellion of 1818 which is part of Ahaspokuna, tales of the Balangoda Man who lived in caves and ate snails, and the old ways of ancient Sri Lanka.
Wilderness spa and lounge
As exciting as they are, all our bushwalks and excursions are completely optional. If you'd rather sleep-in your luxury suite-tent, paint, sunbathe, pick up an interesting book from your tent's mini library, enjoy a glass of wine in your wild Bush Bathtub, or even just drink a cup of tea and watch wandering butterflies and birds from your balcony.... the entire grassland is really your wilderness spa and lounge.
What to expect
Your own, private luxury suite-tent with a private Day Bed / Star Bed and Bush Bathtub

Private fine dining, wine, and more
Mild and medium to daring bushwalks – the choice is yours
Guided bushwalking adventures

with a professional and experienced Naturalist and Bushman

The chance to live with and witness wildlife such as Elephants, Sambar Deer, Porcupines, Pangolins etc.

All-inclusive accommodation plan with a delicious Sri Lankan menu

Amazing landscapes and pristine wilderness

An immersive glamping experience in the heart of the forest

Lots of pampering mixed with just enough adventure in a Nature Reserve
A fascinating venue with complete privacy for your leisure activities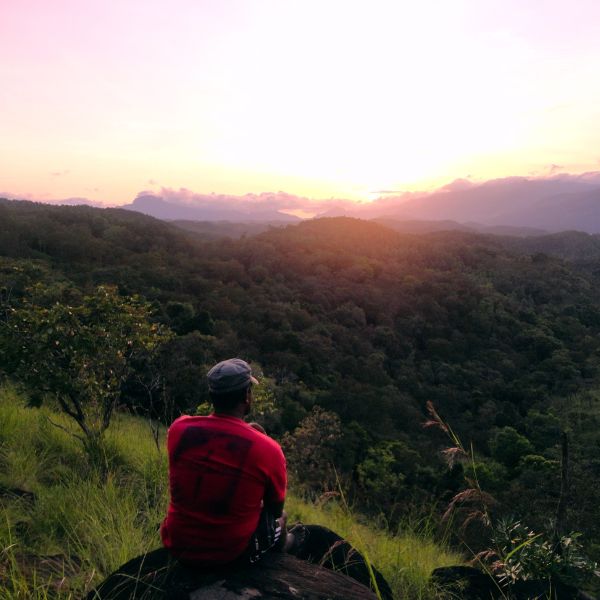 The programme
Day 1
Arrival: We meet you at the designated meeting point by noon and start the short welcome trek to the camp. Your luggage will be taken by our porters, leaving you free to take in the sights and sounds around you. After the welcome briefing by the Camp Manager at the camp lounge area, you may check-in into your suite-tent. You will be briefed on the features of the tent and the associated facilities. After you settle in, lunch will be served.
Post-lunch: Our naturalist will discuss the evening programme with you. You are free to take it easy and enjoy the large campsite and the surrounding area, or you may opt for the 2 ½ to 3-hour adventure bushwalk that will take you through the grassland and forest. If the weather permits, you can have a refreshing soak in a natural rock pool located at the bottom of a waterfall.

Evening: We meet you again around 6pm at a unique viewpoint that lets you enjoy a magical sunset so vivid, no camera in the world can do it justice.

Dinner & Drinks: Take a relaxing soak in your Bush Bathtub and meet us near the campfire for drinks, dinner and campfire stories under the stars. Post-dinner: Wrap up a day of adventure and bliss with a relaxing night walk. If you're up for it, bundle up and visit our "Hide" near the waterhole for an immersive experience of nocturnal wildlife as the chilly forest breeze sweeps across the grasslands. Or, simply retire to your suite-tent or Star Bed and enjoy the rest of the night isolated with nothing in-between you and a billion stars.

Day 2
Pre-breakfast: We start the pre-breakfast guided nature trail at 6:30 am. This bushwalk takes about an hour – you are free to brave it, or you may sleep-in and meet us for breakfast at 7:30 am.
Post-breakfast: We depart for a late-morning, 3-hour bushwalk that cuts through the grasslands and goes deep into the forest. If the weather permits, a refreshing shallow dip on the top of the Gan Ella Waterfall is also included.
Lunch: We arrive back at camp for lunch at around 1 pm. Sunbathe on your Day Bed, unwind in the Bush Bathtub or simply fall asleep in your private garden hammock and use this time to rest up for your evening excursion.
Evening: Our evening trek will take approximately 2 ½ to 3 hours which goes through an elephant-made path into the grasslands and forest.
OR
You can skip the trek and take in the beauty of Ahaspokuna and its surroundings at your leisure.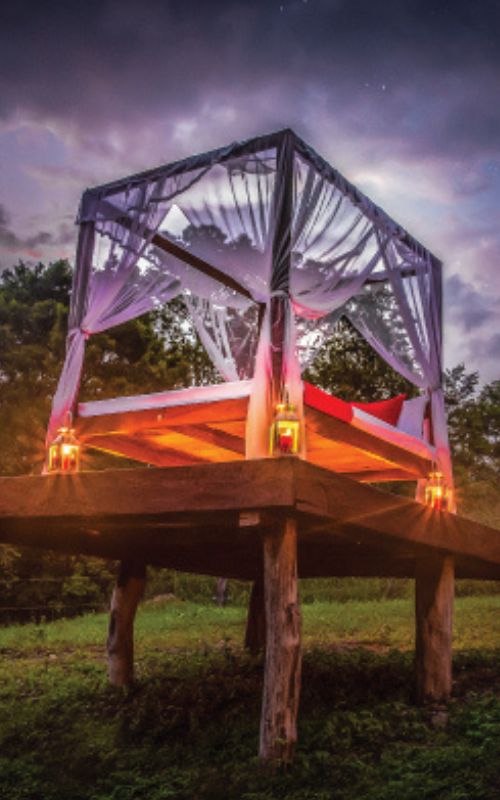 Day 3
Morning: Decided to sleep-in for Day 2's pre-breakfast nature trail? Here's your chance to still experience the forest come alive at sunrise in Ahaspokuna! Embark on your pre-breakfast nature trail at 6:30am and arrive back at camp around 7:30am for a delicious breakfast.
Post-breakfast: Sometimes goodbyes can be long and fun, and that's precisely what's in store for those leaving the camp! Your departure trail is roughly a 20-minute trek with a descent of about 300 metres, taking you back to where we first met you. This is where we bid you farewell and you leave behind the world of Indiana Jones… until next time!