We invite you to walk in the shoes of a bushman with leopards and sloth bears on prowl in the area, though much too shy to confront you. However, elephants are an entirely different story, thus our expert trackers keep their eyes peeled for these gentle giants.
To ensure your safety, an advance party is sent out prior to bushwalks so that we wouldn't startle them en-route.
Our Walking Safari Specialists have your safety as their primary concern, making your experience in the bush as safe as it is fun. All walks will be guided by a professional naturalist and experienced Bushman who've lived in this forested area for generations.
Bushwalk Programme
Itinerary for 2 Nights and 3 Days
Half Day Bushwalks
Day 01
Arrival: We meet you at the designated meeting point by noon and start the short welcome trek to the camp. Your luggage will be taken by our porters. After the welcome briefing by the Camp Manager at the camp lounge area, you may check-in into your suite-tent. You will be briefed on the features of the tent and the associated facilities. After you settle in, lunch will be served.
Post-lunch: Our naturalist will discuss the evening programme with you. You are free to take it easy and enjoy the large campsite and the surrounding area, or you may opt for the 2 ½ to 3 hour adventure bushwalk that will take you through the grassland and forest.
Evening: We meet you again around 6pm at a unique viewpoint that lets you enjoy a magical sunset so vivid, no camera in the world can do it justice.
Dinner & Drinks: After you soak in our wild bath, meet us near the campfire for drinks, dinner and campfire stories under the stars.
Post-dinner: What better way to wrap up a day of adventure and bliss, than with a relaxing night walk to stargaze? Visit our "Hide" near the waterhole for an immersive experience of nocturnal wildlife as the chilly forest breeze sweeps across the grasslands. Or, simply retire to your suite-tent or star bed to enjoy the rest of the night isolated with nothing in-between you and a billion stars.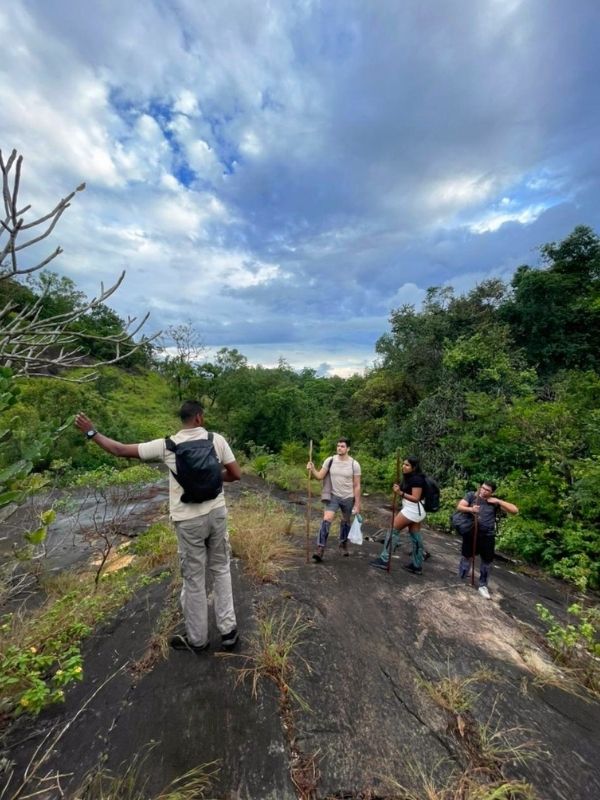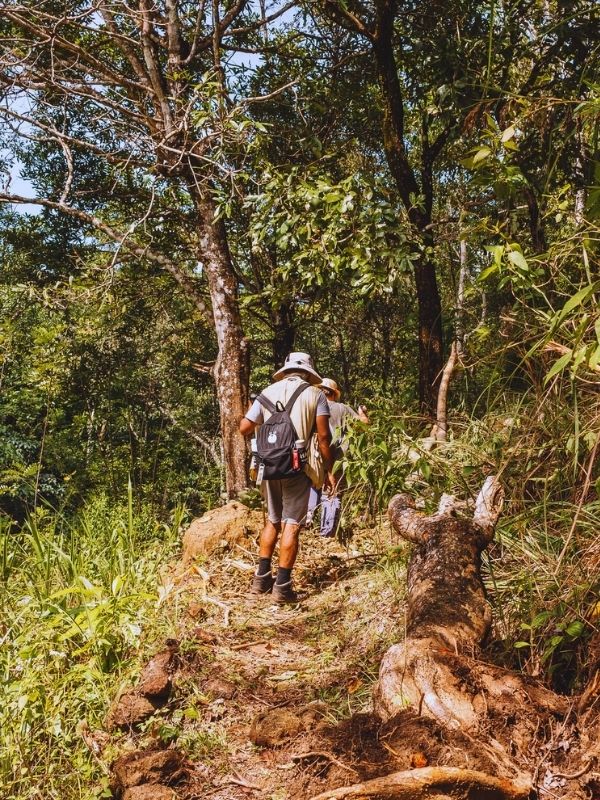 Day 2
Pre-breakfast: We start the pre-breakfast nature trail at 6.30am. This bushwalk takes about an hour and you are free to partake in it or sleep-in and meet us for breakfast at 7:30am.
Post-breakfast: We depart for a late-morning, 3 hour bushwalk that cuts through the grasslands and goes deep into the forest. If the weather permits, a refreshing shallow dip on the top of the Gan Ella Waterfall is included.
Lunch: We arrive back at camp for a hot lunch around 1pm. Relax in our day bed / star bed, unwind in our Wild Bath, or simply fall asleep in your private garden hammock to rest up for your evening excursion.
Evening: Our evening trek will take approximately 2 ½ to 3 hours which goes through an elephant-made path into the grasslands and forest.
Day 3
Morning: Decided to sleep-in for Day 2's pre-breakfast nature trail? Here's your chance to still experience the forest come alive at sunrise in Ahaspokuna.
Post-breakfast: Sometimes goodbyes can be long and fun, and that's precisely what's in store for those leaving the camp. Your departure trail is roughly a 5km-long trek with a descent of 100m to 150m.
Half Day Trek to Gan Ella Waterfall
This walking trail is a beautiful half-day trek to the 150-ft-high Gan Ella Waterfall.
At first, you will walk along a path created by elephants and other animals on the high hills from which you will see…
Special Full Day Bushwalk
If you wish to truly challenge yourself, our Full Day Bushwalk is seen as a life-changing experience. This 6 hours trek is not for the faint of heart; our naturalist and bushman will guide you through steep climbs with dangerous drops, a hidden waterfall path, and help you manoeuvre through a village bean field in the mountains. This highly exclusive wilderness adventure lets you experience things only a handful of people have. However, it doesn't quite hit you in the beginning; only when you're tucking into your lunch, surrounded by a spectacular view atop a forest mountain, and you see lost elephants play 50m away from you, do you realize you're in the middle of an adventure.
Trails & Fitness
Arrival Trek: The trek to the camp is about 2km and goes through the evergreen forest. It has a total inclination of 100m.
Evening Trek: A slightly challenging trek which would be 6km with a descent /ascent of 200m.
Post-breakfast Trek: An easy 3km trek with a descent / ascent of 50m to 100m.
Evening Trek: A challenging trek of 6km to 8km with a descent / ascent of 300m to 500m.
Note: All our bushwalks and excursions are completely optional. If you'd rather sleep-in, paint, sunbathe, pick up an interesting book from your suite-tent's mini library, enjoy a glass of wine in our Wild Bath, get a relaxing Ayurvedic Massage, or even just drink a cup of tea and watch wandering butterflies and birds from your balcony.... the entire grassland is really your wilderness spa and lounge.