Sri Lanka is world famous for its original, age-old Ayurveda practice. It's very different and independent from our neighbouring country – India. Over 5000 years of empirical research by various practitioners has refined Ayurveda Massages into a sublime art, and yet it is still unheard of by many. However, combining skilled knowledge of the body with knowledge of oils, music, and bodywork techniques, has resulted in a profound art for balancing the body and mind through the medium of oil massages. This therapy takes account of your whole being and lifestyle, with a completely holistic approach for harmonised change to improve health and wellbeing. The word itself is derived from two Sanskrit words: Ayu (meaning life) and Veda (meaning knowledge). This science focuses on living life naturally and in balance.
An oil massage is consistently used throughout Ayurveda Massage Treatments. Its calm approach means that recipients are not only induced into a relaxed state during the massage, they also often report an improvement in their sleep patterns, their general sense of wellbeing, and the eradication of the effects that everyday stresses and strains can have on our minds and bodies. At Ahaspokuna, we are happy to arrange a professional Ayurveda Therapist for massage therapy at a pre-booked time. This is ideal following an adventurous bushwalk or an intense yoga session.
Mr. Amila Alwis
Ayurvedic Masseur
Amila is a professional Ayurveda therapist from Kandy – the beautiful hill country of Sri Lanka. He is also qualified in acupuncture and sports injury therapy.
Trained in Sri Lanka and India, Amila has perfected the art of Ayurveda Massages and has been working with the Ministry of Sports in Sri Lanka as a professional masseur for almost 11 years.
Massages involve aromatic herbal oils which will help you relax after a challenging bushwalk. This serves not only to relieve pain, but also to increase circulation, stimulate and strengthen the lymphatic system, and open the flow of life force in order to cleanse and revitalise the body. In addition to this, the essential oils carefully chosen by him have nourishing and detoxifying properties, slowing aging and leaving the skin soft and shiny.
Other benefits include symptomatic relief of stress and the generation of positive emotions to make you feel better, both physical and mentally.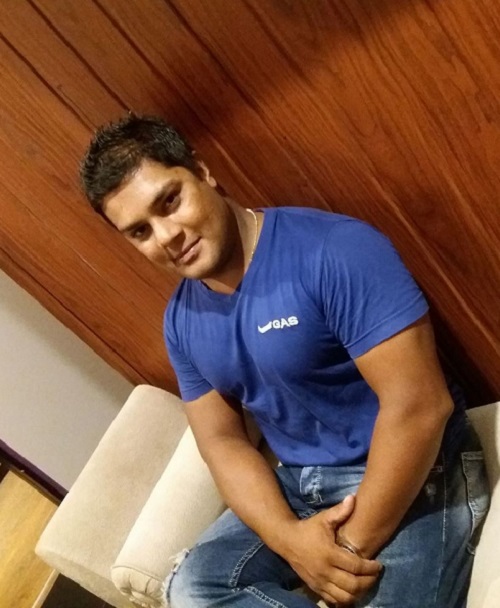 Day 1
Arrival: We meet you at the designated meeting point by noon and start the short welcome trek to the camp. Your luggage will be taken by our porters. After the welcome briefing by the Camp Manager at the camp lounge area, you may check-in into your suite-tent. You will be briefed on the features of the tent and the associated facilities. After you settle in, lunch will be served.

Post-lunch: Our naturalist will discuss the evening programme with you. You are free to take it easy and enjoy the large campsite and the surrounding area, or you may opt for the 2 ½ to 3 hour adventure bushwalk that will take you through the grassland and forest.

Early Evening: Rest and relax in your suite-tent before rejuvenating with an Ayurveda Aromatherapy Massage (Full Body or Half Body, as per your requirements) which can be arranged for you.

Dinner: After you soak in our wild bath, meet us near the campfire for a delicious BBQ dinner under the stars. Post-dinner: What better way to wrap up a feel-good day, than with a relaxing night walk to stargaze? Visit our "Hide" near the waterhole for an immersive experience of nocturnal wildlife as the chilly forest breeze sweeps across the grasslands. Or, simply retire to your suite-tent or star bed to enjoy the rest of the night isolated with nothing in-between you and a billion stars.
Day 2
Post-breakfast: You may now feel energised to embark on a special 3 hour bushwalk into the grasslands and forest. Or, you could simply do as you please and enjoy a book in your private hammock.
Lunch: After your bushwalk or morning of relaxation, you arrive in time for lunch at the campsite – which will be around 1pm. When you're ready to leave, enjoy a boosting Ayurveda Massage before you embark on our departure trail – a 5km trek with a descent of 100m to 150m.