Yoga is so much more than just the physical practice. Yoga changes the way we think, feel, and relate to nature and others – and because of that, the way we live. Yoga is learning how to balance your life, and balance is the key to everything. What we do, say, feel, think… they all require awareness, and with this awareness one can achieve great heights. Like so, a lot has been written and said about yoga already. However, we believe yoga can only really be understood by experiencing it. After all, insights come with practice, not the other way around.
You will not find a better place to practice this ancient art than Ahaspokuna – the lake in the sky.
The serene calm and quiet surroundings of Ahaspokuna will set the mood for yoga at any time of the day. We are more than happy to arrange a well-practised and experienced instructor for you to learn and experience yoga at Ahaspokuna during your stay. Whether you have practised before or are a beginner, whether your stay is a brief or long one, we will tailor-make our programmes to suit your individual needs.

Ms Amice van der Burg
Yoga Teacher
Amice is a Corporate Lawyer turned multilingual yoga teacher. She is committed to bringing you the experience of greater inner peace during your stay with us at Ahaspokuna.
Amice is an internationally-trained teacher who completed her yoga teacher training at 'Blooming Lotus Yoga' in Bali and Thailand. Fluent in English, Dutch, German, and conversant in French, she is able to communicate with and understand many of our guests. This multicultural individual has grown up, lived, and worked in many countries until she found her true home in the beautiful island of Sri Lanka.
Through teaching Yoga, her main intent is to compassionately share with the world her approach to spiritual awakening and perhaps to a different way of life. During your session, she will welcome you to the journey of 'being', the very essence of yoga, and invite you to listen to your inner voice and intuition, which is your supreme teacher. From the heart, the place of stillness, balance, openness and love, she will support you in your journey into the inner heart of yoga.
Amice teaches predominantly Hatha Yoga as well as Yin Yoga and Restorative Yoga. Part of her practice and teaching are meditation, pranayama and mantras. If required, meditation and mantra can be included.
Good mental and physical health is priceless. Having been in a legal career in the corporate world and in private practice for many years, Amice can relate very well to modern-day stress. With her peaceful and empathetic approach, she will help you reach a deeper state of relaxation and perhaps even support you on your path to lay the foundation for a transformation that may forever alter the course of your life.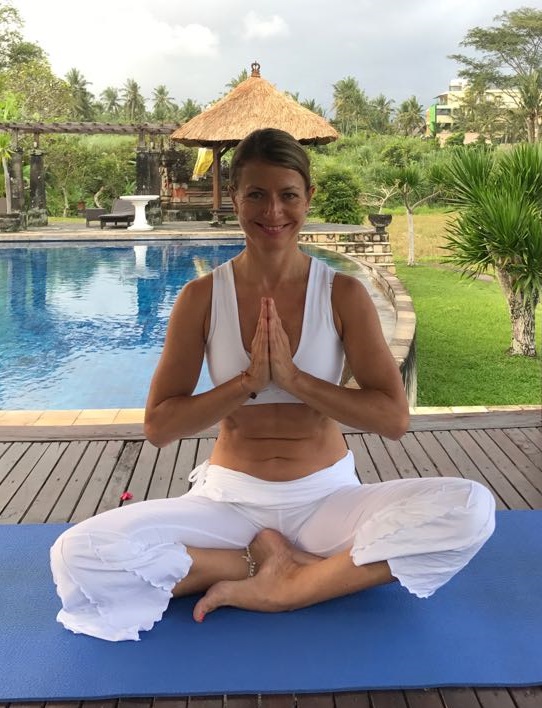 Day 1
Arrival: We meet you at the designated meeting point by noon and start the short welcome trek to the camp. Your luggage will be taken by our porters. After the welcome briefing by the Camp Manager at the camp lounge area, you may check-in into your suite-tent. You will be briefed on the features of the tent and the associated facilities. After you settle in, lunch will be served.
Post-lunch: Our naturalist will discuss the evening programme with you. You are free to take it easy and enjoy the large campsite and the surrounding area, or you may opt for the 1 ½ to 2 hour adventure bushwalk that will take you through the grassland and forest.
Early Evening: Rest and relax in your suite-tent before rejuvenating with a gentle yoga session at sunset.
Dinner: After you soak in our wild bath, meet us near the campfire for a delicious BBQ dinner under the stars.
Post-dinner: What better way to wrap up a day of spiritual awakening, than with a relaxing night walk to stargaze? Visit our "Hide" near the waterhole for an immersive experience of nocturnal wildlife as the chilly forest breeze sweeps across the grasslands. Or, simply retire to your suite-tent or star bed to enjoy the rest of the night isolated with nothing in-between you and a billion stars.
Day 2
Pre-breakfast: Rise early, sip on a cup of coffee and enjoy an early morning yoga session to wake up body and mind while basking in the sunrise.
Post-breakfast: You may now feel energised to embark on a special 3 hour bushwalk into the grasslands and forest. Or, you could simply do as you please and enjoy a book in your private hammock.
Lunch: After your bushwalk or morning of relaxation, you arrive in time for lunch at the campsite – around 1pm. When you're ready to leave, our departure trail is a fun 5km trek with a descent of 100m to 150m.
*This programme can be merged with a relaxing meditation session and a discussion on "The Buddhist Way of Life" with a professional. Let us know how you would like to live here at Ahaspokuna.
Please note that this programme requires pre -booking and is offered for clients who stay for two or more nights at a supplementary rate.