Story of the "Binara Plant"
Story of the "Binara Plant"
You could say that "Blue" is not a very common colour in Nature, especially among flowers. And that's why Belle, from "Beauty and the Beast", asks her father to bring a "Blue Rose" from his travels … blue flowers are pretty special…. Behold the beautiful Binara, a bright blue flower on a slender herbaceous plant endemic to Sri Lanka. 
Known locally as "Ginihiriya" this plant grows to about 1m in height -  at an altitude of 2000m. Binara (Genus: Exaccum) boasts of eight species and bears a four-sided stem and its colours vary from shades of white, dark blue to hues of purple. These flowers are offered for worship in Buddhist temples and also used in Sri Lankan traditional medicine (known as Ayurvedic medicine).
Endemic Flowering Plants of Sri Lanka
Literally speaking, an "Endemic Plant" is one that is found or grows in a specific area or habitat. In this respect,  Endemic Plants of Sri Lanka are those that are found growing exclusively in Sri Lanka and nowhere else in the world. Little do we realise the long process of evolution it takes, for endemic plants to survive in a specific area under unique environmental conditions.
Unfortunately, any disturbances or changes to these specific environmental conditions of any form, would eliminate these plants not only from the Sri Lankan wilderness but from the entire world's biodiversity - forever. According to researchers, there are 850 endemic flowering plant species recorded from Sri Lanka about 230 could be considered as threatened (i.e. endangered, vulnerable or rare), which is truly a tragedy. 
And the Genus: Exaccum is, sadly,on the top of the list.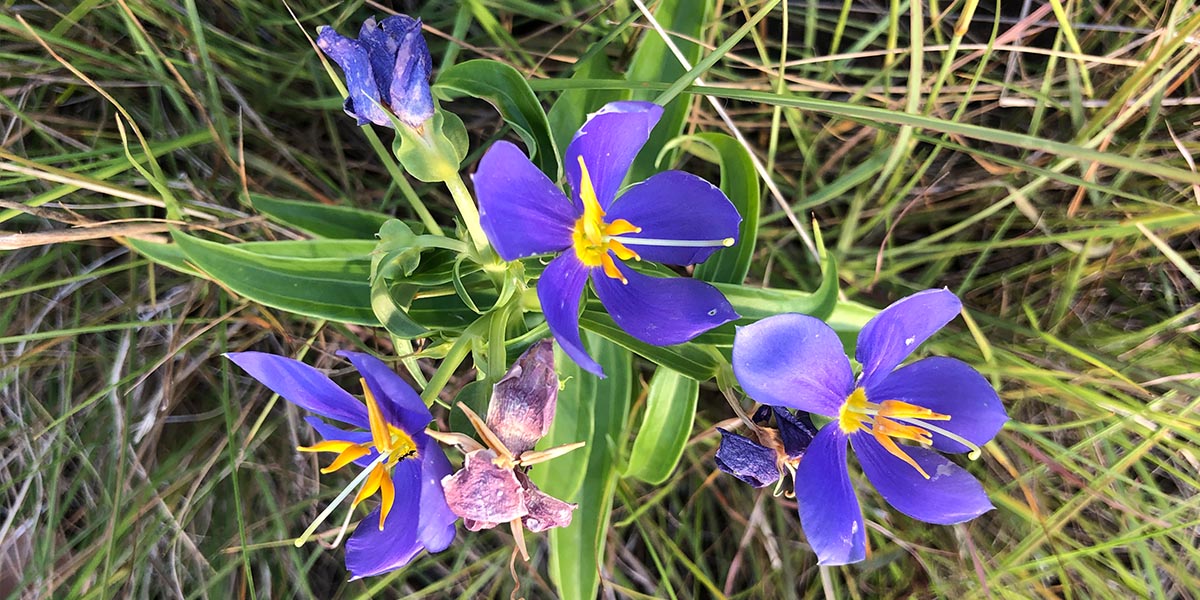 What makes "Binara" so special ?
It is rare to come across  a plant species believed to be extinct, to be later found to be 'not'.And excitingly, this is exactly what happened with one of the species of Binara, namely "Exacum Pedunculatum '' which was rediscovered in 1988 in the Naulla area - a species considered to be extinct for more than a century!   Pretty cool … don't you think? 
And now, we are thrilled to hear that they have discovered another endemic species of this beautiful plant in the Ahaspokuna Wildlife Tented Camp premises in Belihuloya - in the misty hills of the Sabaragamuwa Province. While you are on your nature excursions,  you will definitely notice them. The mini-nature reserve concept at this location has allowed many endemic species to flourish and this is indeed a gem we found surviving at the camp premises.
Out of the eight species of Exacum found in Sri Lanka, it is  the Exacum Trinervium Macranthum -one of the five endangered species - which has been identified at the camp. The Blue Binara was fairly common to be sighted in the moist areas of the highlands, in the southeastern part of the Central Province - a few decades ago, but sadly… not anymore.
Current Conservation Status ??
You may be surprised to know that this plant is not protected under Section 42 or section 45 of the Fauna and Flora Protection Ordinance (FFPO). Fortunately, the plant enjoys limited protection under the Forest Conservation Ordinance (FCO). This states  that the habitat from where the plant has been recorded needs to be protected as soon as possible and it's truly wonderful to see that the naturalists of Ahaspokuna Bushwalk Camp are in the process of doing so. 
The threat of the Binara Plants being destroyed from their known and recorded habitats due to various reasons has got the attention of many environmental groups which are now in the process of conserving and protecting the species, islandwide.
"Binara" - a Victim of Bio - Piracy
There has been great controversy about a Canadian National - A professor from British Columbia Botanical Garden - named Andrew Risemann, a world-renowned expert on applied Biology and Plant Breeding, of using this plant illegally after obtaining a specimen from a Sri Lankan scientist to create hybrid species of this plant for commercial purposes. Now he has close to 16 patents on this plant covering various areas, which is a huge injustice to Sri Lanka where this plant is naturally occurring and endemic to. (Source:Sunday Observer : Sunday, 19 Sep 2021 : Sinharaja incident an attempt at bio-piracy? /Daily Mirror : 17 Dec 2012 : Bio Theft & Bio Piracy) The smuggling of this plant was first recorded in 1990 by a group of Dutch experts who came to Sri Lanka to participate in the International Conference on Endangered Plants. During this summit, they were able to steal samples of the plant from Horton Plains National Park which was later genetically developed into a species to have larger flowers and named them to be "Royal Blues" and "Royal Whites" which they obtained patents for.

The unethical behaviour of Andrew Risemann and the Dutch experts stresses the urgency and necessity for Sri Lanka to implement policies, regulations, and stringent laws, to deter or else punish those found culpable. This way forward is crucial to ensure the protection of these plants alongside many other endemic species of Sri Lanka. It is so delightful to see how the campsite team is taking measures to conserve the patches where this plant grows. So far they have done a great job. "For us, at luxury safari holidays, it is an actual privilege to have this beautiful plant in our misty valleys. For everyone fortunate to visit us during its blooming season, which occurs from January to June and again from September to December, while you're spending your luxury safari holidays - it is a treat and we are doing everything we can to preserve the Binara '' commented the proprietor. But the real question still remains… Are our laws current and sufficiently effective enough to counter the new threats emerging every day…???